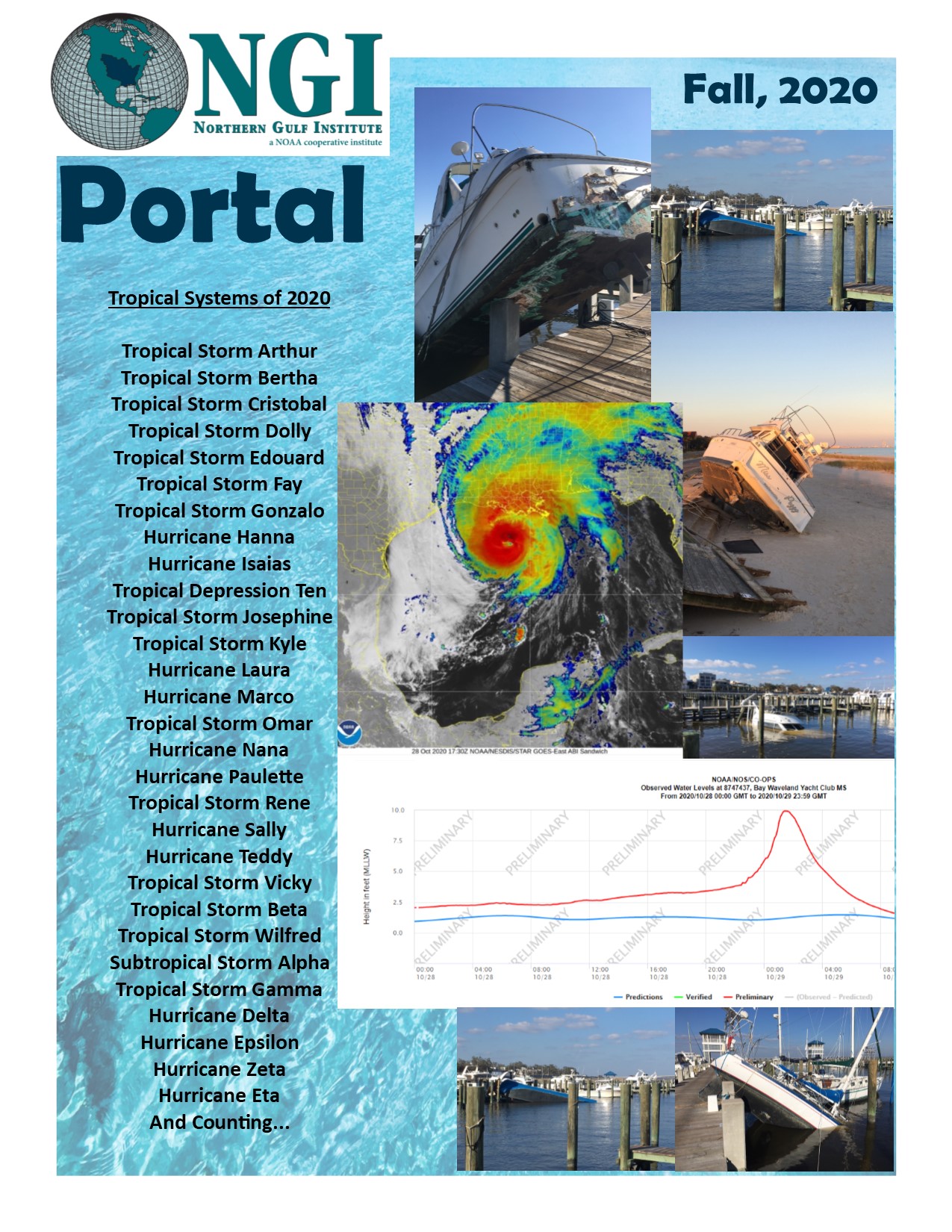 Fall, 2020 Issue
December 1, 2020
Northern Gulf Institute Seeking to Fill Co-Director Position
Position Function:
The Co-Director of NGI and Associate Director for GRI is a full-time position located at the John C. Stennis Space Center (SSC), MS. This position functions as the MSU Technical Site Lead, supervising all MSU research programs at SSC and serving as the MSU advocate to federal and state agencies at SSC and throughout the Gulf of Mexico area.
Salary Grade:
20
Area of Specialization:
Technical Site Lead, Stennis Space Center
Essential Duties and Responsibilities:
Provide management and oversight for all the Geosystems Research Institute (GRI) and Northern Gulf Institute (NGI) personnel and research programs at SSC.
Oversee and provide daily supervision for all personnel housed in the MSU Science and Technology Building at SSC.
Provide the agencies located at the SSC with an on-site point-of-contact for MSU to facilitate agency-university interaction.
Develop and maintain coordinated extension and outreach functions to expand and enhance multi-faceted inter-agency, center, and departmental multi-disciplinary projects; i.e. projects that integrate research, education, and extension.
Develop and enhance relationships with federal, state, local, and private sector entities to the fullest extent possible, forming collaborations and coordinating relationships resulting in research and extension activities with local and national teams related to the GRI and NGI Mission.
Assist in strategic planning activities with the GRI and NGI Director.
Perform delegated responsibilities assigned by the GRI and NGI Director.
Participate in GRI and NGI research opportunity development.
Supervise the efficient execution of contracts managed by MSU at SSC.
Minimum Qualifications:
Earned doctorate in Atmospheric Science, Ocean/Marine Science, Earth/Geoscience, or closely associated discipline, with demonstrated experience in:
Strategic planning
Leading and supporting strategic planning processes.
Implementation development
Designing implementation approaches for a multi-agency, multi-center research programs.
Program management
Managing a multi-million dollar technology and applications development programs focused on delivering geospatial-based solutions to resource managers.
Team development
Developing multi-disciplinary teams that focus on requirements for information, implement technical approaches, test and validate applications, deliver final products, and assess economic impacts.
Performance assessment and reporting
Establishing goals, measuring performance, and reporting results.
Leadership
Representing Institutional interest in a national program, managing program and project-level activities, and supervising employees.
Proven record of research accomplishment.
Instructions for Applying:
Link to apply:
http://explore.msujobs.msstate.edu/
Apply online by submitting a cover letter, resume, and a copy of your transcript(s). Any social security numbers included on requested transcripts should be redacted prior to submitting online. For questions, please contact Crisler Herndon at
crisler@hpc.msstate.edu
.
Restricted Clause:
Position contingent upon funding availability.
Equal Employment Opportunity Statement:
MSU is an equal opportunity employer, and all qualified applicants will receive consideration for employment without regard to race, color, ethnicity, sex, religion, national origin, disability, age, sexual orientation, genetic information, pregnancy, gender identity, status as a U.S. veteran, and/or any other status protected by applicable law. We always welcome nominations and applications from women, members of any minority group, and others who share our passion for building a diverse community that reflects the diversity in our student population.
Please click the following link for more information:
https://explore.msujobs.msstate.edu/cw/en-us/job/500723/codirector-ngi-associate-director-gri-associate-research-professor