Wednesday, October 09, 2019
The Sea Grant Science Outreach Program is seeking a Texas-based Extension Specialist
The Sea Grant Science Outreach Program is seeking a Texas-based extension specialist to join the team. The interdisciplinary Gulf-wide team members bring peer-reviewed oil spill and ecosystem science findings to people with a vested interest in a healthy marine environment through extension publications and public science seminars. The ideal candidate will have a strong grounding in a field such as biology, fisheries, ecosystem science, or natural resource economics and a proven ability to share science with audiences of all backgrounds and abilities. Based in Corpus Christi, the position requires travel throughout the Gulf region and beyond, in addition to strong writing and public speaking skills.
The following link will take you to the job posting:
https://tamus.wd1.myworkdayjobs.com/en-US/TAMU_External/job/Corpus-Christi-TAMUCC/Program-Coordinator-II-P11_R-024596
---
Job Description
Our Commitment
Texas A&M University is committed to enriching the learning and working environment for all visitors, students, faculty, and staff by promoting a culture that embraces inclusion, diversity, equity, and accountability. Diverse perspectives, talents, and identities are vital to accomplishing our
mission
and living our
core values
.
Who we are
The College of Geosciences at Texas A&M University offers a comprehensive program in geoscience research, education and engagement. The College is made up of a diverse mix of academic departments and programs that examine the solid Earth, the atmosphere, the oceans, and human cultures to address the intimate relationships between people and Earth systems. The College of Geosciences is home to four departments and home to nine research centers and consortiums that focus on interdisciplinary and collaborative research aimed at addressing global issues that affect our everyday lives.
What we want
The Program Coordinator II (Science Outreach Specialist), works collaboratively with four Sea Grant college programs to plan, develop and implement the regional Gulf of Mexico Sea Grant Oil Spill Science Outreach program and the Gulf of Mexico Sea Grant Science Outreach program. The coordinator serves as the Texas Sea Grant Oil Spill Science Extension Specialist and works regionally. Responsibilities include statewide leadership and coordination for outreach, engagement and education programs in oil spill research and ecosystem science.
This position is located in Corpus Christi.
We need an individual who subscribes to and supports our commitment as stated above. If the description sounds interesting to you, we invite you to apply to be considered for this opportunity.
Required Education and Experience:
Bachelors degree in biology, fisheries, ecosystem science, natural resource economics, ecosystem service valuation, evaluation or related field or equivalent combination of education and experience
Four years of extension, outreach and/or education experience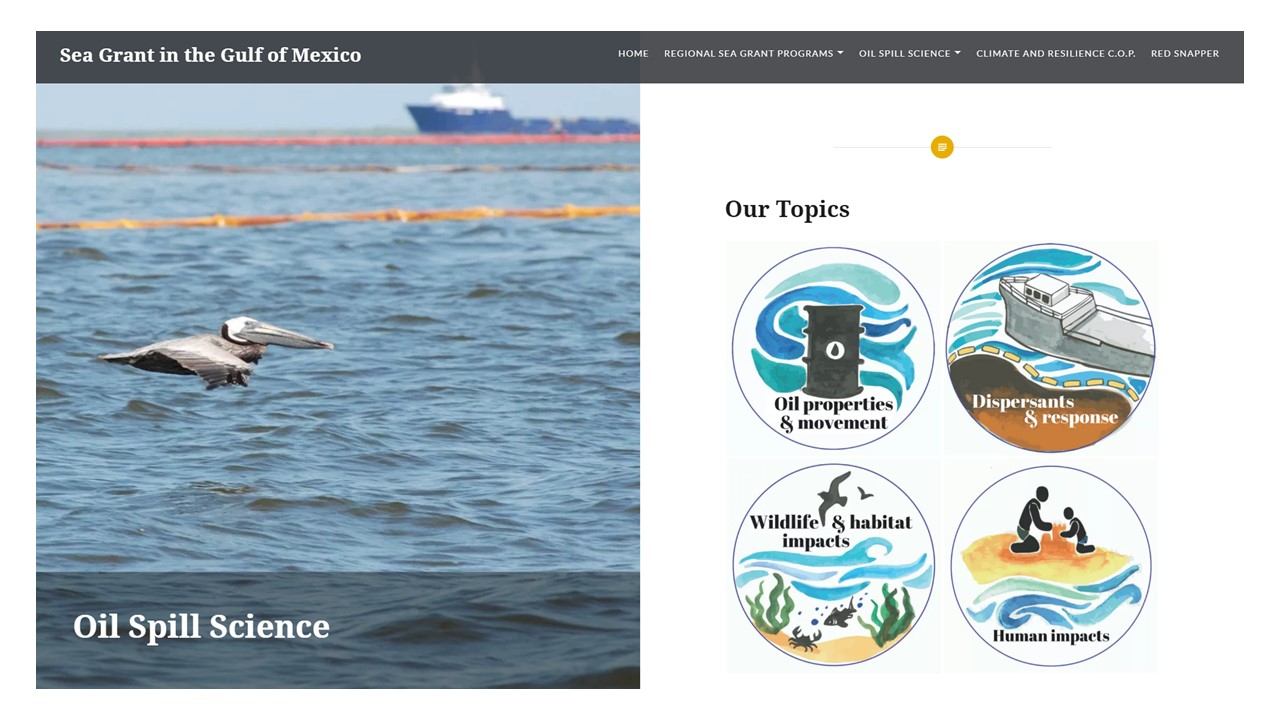 ---
Thursday, October 03, 2019
"Go With The Flow" - The Mighty Mississippi River Watershed Fact Sheet
---
Thursday, October 03, 2019
Go With the Flow! NOAA partners with NGI and the Grand Bay NERR to demonstrate the Gulf of Mexico watersheds for Homeschool Monday at INFINITY Science Center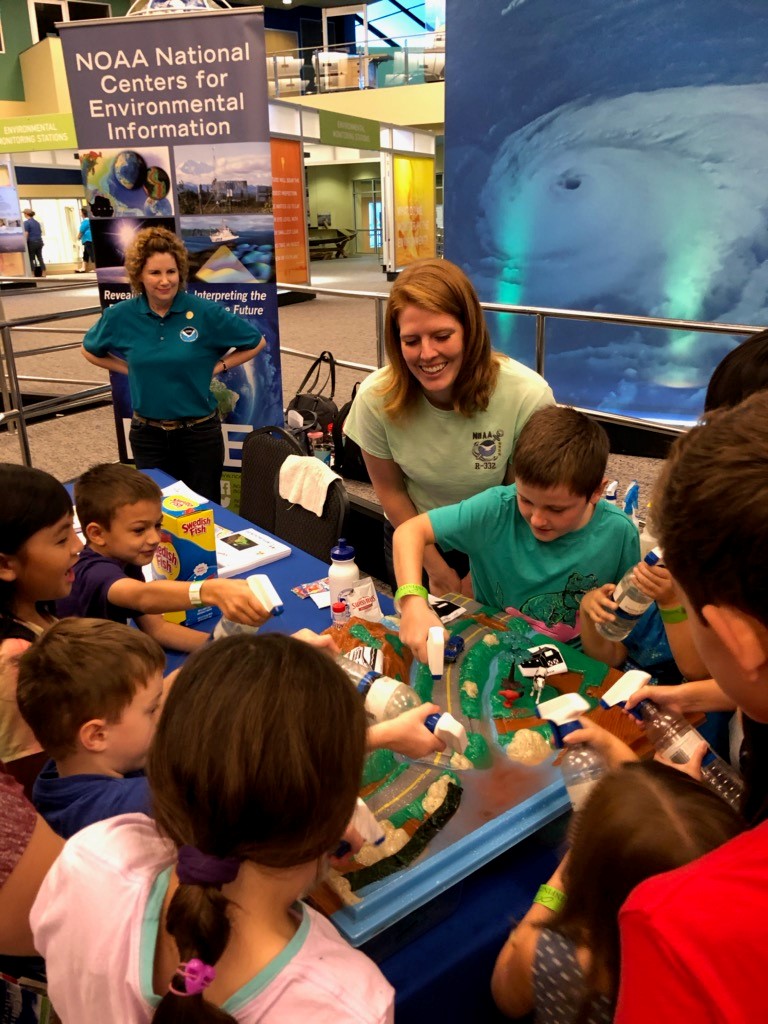 The
Go with the Flow!
activity was designed to demonstrate how our actions on land affect the health of our ocean ecosystems and people in coastal communities. NOAA put the "S-ience" in a Science, Technology, Engineering, and Math (STEM) series of events on September 30, 2019 targeting homeschooled children from surrounding areas. 213 people or 88% of the total registered guests visited our booth to discuss how watersheds work and the human role as sustainable environmental stewards.
Amy Clark was the point of contact for our booth at INFINITY, Madalyn Newman planned, coordinated, and led the activity along with the volunteers Sandra Huynh, Angela Sallis, and Amy. Madalyn created a handout with the help of her co-workers entitled,
Go with the Flow! The Mighty Mississippi River Watershed Fact Sheet.
This fact sheet was included in a packet of information on two types of algal blooms, NOAA's Hypoxia Watch and HABSOS flyers, and a few watershed activities for different age groups. In a perfect world, this information will provide the parents with a better understanding and resources they can incorporate into lesson plans at home.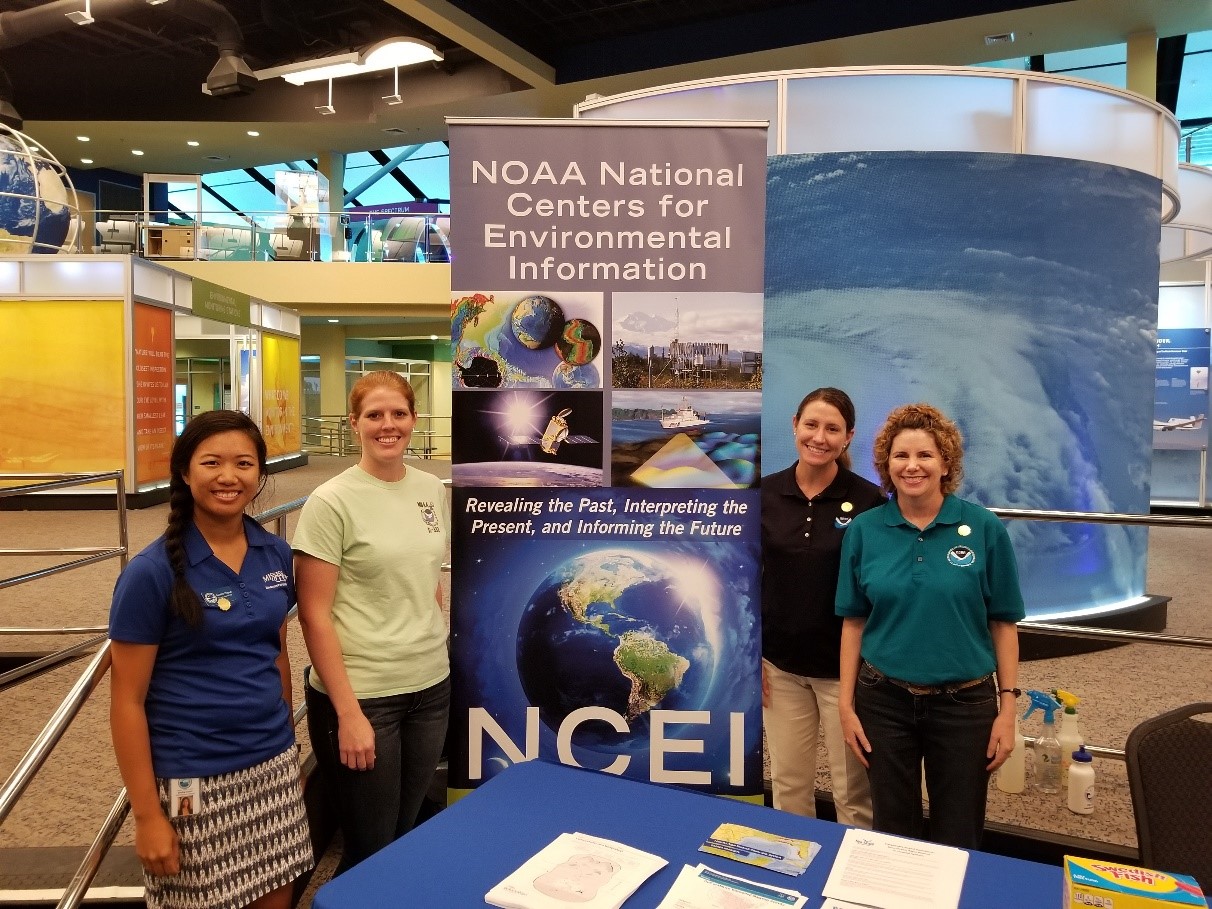 A model coastal community consisting of farms and farm animals, industrial buildings, and residential buildings were incorporated into the demonstration. We discussed how animal waste, nutrients and chemicals from point and nonpoint pollution sources, and litter enter the water. Recent algal blooms, hypoxia, and beach closures were a hot topic of this activity. The idea of living shorelines and the important role of wetlands as both a storm buffer and method of nutrient filtration were also discussed.
---