NGI Progress Report Highlights Research Worth More Than $12-Million in Funding
The Northern Gulf Institute's 2014 Annual Progress Report includes research accomplishments and findings for 33 ongoing projects. The total funding equates to $12-million, including $4-million in new fiscal backing. The research ventures and 16 technical publications feature topics like expansion of ocean observations. For instance, the use of unmanned vehicles and enhanced satellite data analysis. This cutting-edge technology allows scientists to better understand ocean acidification, manage fisheries and estuaries, predict freshwater and oil spill plumes, and forecast tropical storm activities. This research will provide critical information in support of restoration activities and fisheries management in the Northern Gulf of Mexico.
MSU-led Institute Partners with Mexican Researchers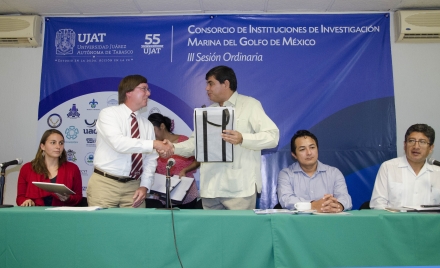 A research consortium led by Mississippi State University has partnered with a group of institutions in Mexico to advance further the study of the Gulf of Mexico's ecosystem.

The Northern Gulf Institute and the Consorcio de Instituciones de Investigación Marina del Golfo de México (CiiMar-GoM) signed recently a memorandum of agreement to support joint research activities of the Gulf of Mexico Alliance, the National Oceanic and Atmospheric Administration, the Environmental Protection Agency and other organizations and governmental agencies with an interest in research and educational programs for the Gulf of Mexico region.

"This agreement will facilitate an effective working relationship between NGI and Mexican researchers who share our focus on issues affecting the gulf," said Steven Ashby, co-director of the NGI.

"We expect to develop projects related to water quality, habitat conservation and restoration, ecosystem integration and assessment, nutrients and nutrient impacts, coastal community resistance and environmental education, among others," he said.

Headquartered at the MSU Science and Technology Center at Stennis Space Center in Hancock County, NGI is a NOAA cooperative institute whose members include the University of Southern Mississippi, Louisiana State University, Florida State University, Dauphin Island Sea Laboratory and MSU. In addition, NGI has an agreement with the Harte Research Institute of Texas A&M University-Corpus Christi to support joint research activities. (For more, see www.ngi.msstate.edu.)

Photo Caption:
Steven Ashby (left), co-director of the MSU-led Northern Gulf Institute, José Manuel Piňa Gutiérrez, Rector, Universidad Juárez Autónoma de Tabasco, recently developed a memorandum of agreement that will support international research collaboration in the Gulf of Mexico region. The MOA was signed by Robert Moorhead, director of the Northern Gulf Institute, and Piňa.


News

NGI Led Group to Study Impacts of Oil in Gulf of Mexico
November 24, 2014 - BY ASSOCIATED PRESS- HATTIESBURG--

A Northern Gulf Institute consortia member, the University of Southern Mississippi, will use $11 million in funding ...

GRIIDC- One Stop Web Shop for Gulf of Mexico Research
November 13, 2014 - The Gulf of Mexico Research Initiative Information and ...

University Names Computing Center for Portera
October 13, 2014 -

To honor Mississippi State University's 16th president and his emphasis on computer research, institution leaders dedicated the Malcolm A. Portera High Performance Computing ...


NGI Co-Director Shares Words of the Wise to Protect Water Resources
September 24, 2014 - Limited water resources and shortages created by population and economic growth, climate change, pollution, and other factors have major impacts on our social, ...

Study Identifies Highly-Efficient Methane-Eating Microbe Present after Oil Spill
September 16, 2014 - During ten research cruises covering over 105,000 square kilometers, scientists documented the fate and dynamics of Deepwater Horizon methane emissions around ...

Mississipppi State and NOAA Scientists Team-up with Liquid Robotics to Improve Huricane Forecasts
August 26, 2014 -

Mississippi State University and NOAA are partners with a California robotics firm in a research project improve hurricane intensity forecasting

A ...



Events

2014 Alabama-Mississippi Bays & Bayous Symposium
December 2-3, 2014 - The 2014 Alabama-Mississippi Bays and Bayous Symposium will be held on December 2nd and 3rd in Mobile, AL. This years theme is "Building Blocks of Coastal Resilience." ...

2015 Gulf of Mexico Oil Spill and Ecosystem Science Conference: Call for Abstracts
February 16-19, 2015 - The 2015 Gulf of Mexico Oil Spill and Ecosystem Science Conference is soliciting abstracts designed to share the latest research findings and contribute to ...

Marine Sciences Graduate Students Host Graduate Student Symposium
March 13-15, 2015 -

GSS 2015

Dauphin Island Sea Lab, March 13-15

This year's annual Graduate Student Symposium (GSS) will be hosted by ...